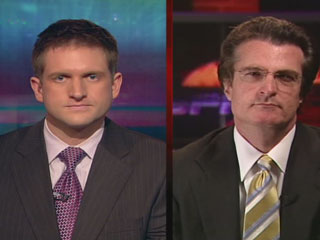 The fine folks in the sports department at
USA Today are reporting
that the 2008 supplemental draft has been cancelled. Apparently everyone had their shit together this year and there were no applicants.
The draft is traditionally reserved for complete fuck ups who either flunk out or get arrested and kicked off the team. Last year a pair of players were taken. Georgia cornerback Paul Oliver was selected as the Chargers gave up their 4th round pick in the 2008 NFL draft. The Ravens also jumped in on the fun selecting Maryland tackle Jared Gaither with their 2008 5th round selection. The good news that this is a gratuitous opportunity to talk about one of Coach Ryan's all-time favorite college running backs Maurice "Get Your Goose On" Clarett.
You see, the supplemental draft almost received celebrity status in 2004 when it looked like Mike Williams and Clarett planned
to challenge the NFL's age
rule
. Instead both men took the year off and it worked out pretty good. Mike Williams
is a type II diabetic
. Mo' Mo'
is wearing a fishnet serving gruel
to Nasty Nate for at least one more year.
Here's a look at what was in the passenger seat of Mo' Mo's car when he was pulled over just one mile away from the home of a witness testifying against him. No joke.